Decadance goes to San Francisco and puts on a fantastic Christmas Show at Pier 39 and Ghirardelli Square. Special thanks to Merry Yen for sharing below her experience of performing under 3-storey-tall Christmas Trees!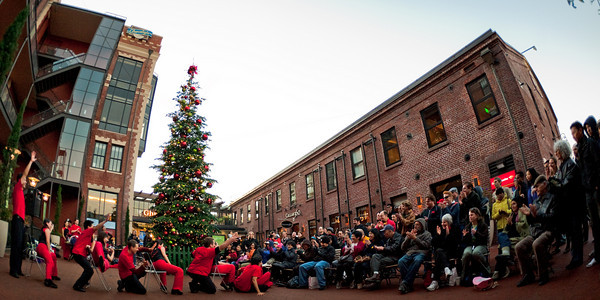 Me: The Christmas Show is amazing! How long has Deca been doing this?
Merry: At least 7 years — for as long as I've been in Deca.
Me: What is your favorite part of the Christmas Show?
Merry: The audience! Seeing the excitement on the passersby… and strangers coming up & telling us "I did that dance in my home country but never knew you could dance it to that music!"
Me: Best moment this year?
Merry: At Pier 39, when we announced that a piece was choreographed
by Rainbow Chen. One of the girls in the audience just screamed out
"Oh! I LOOOVE rainbows!"
Me: It must be pretty difficult dancing on a brick surface. How do you do aerials and redowas?
Merry: We just do it! I wear out a pair of dance shoes by the end of the day.
Splash photo: Eric Liu, Connie Kwan, Jed Burgess,
and Michal Grabowski in "OK Goes"
Above: Decadance performing at Ghirardelli Square
Left: Mike Grabowski and Emily Mangone in "Lady Be Good"
Below: Rainbow Chen and Connie Kwan in "Walk Away"

Above: Deb Henigson in "Walk Away"
Right: Merry Yen in "Shehnai Dandiya"